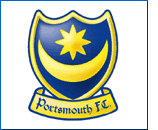 Founded in 1898, Portsmouth Football Club are an English football club based in the south coast city port of Portsmouth
. The club is nicknamed Pompey (also the nickname for the city) and currently plays in the FA Premier League. The club is owned by French-Russian businessman Alexandre Gaydamak.
There has historically been a fierce rivalry between Portsmouth and Southampton. This derby match has only taken place infrequently as, for much of their history, the two teams have been in different divisions. Since 1977, the teams have only played league games against each other in three seasons (1987/88, 2003/04 and 2004/05).
The club's most recent trophy was won on April 27, 2003 when Pompey beat Rotherham 3-2 to win the First Division championship, giving the club promotion to the Premier League for the first time since its inception.
For more on their history
Click Here
Current First-Team Squad
1 GK David James
2 DF Linvoy Primus
3 DF Dejan Stefanović (captain)
4 DF Glen Johnson (on loan from Chelsea)
5 DF Andy O'Brien
6 MF Manuel Fernandes (on loan from Benfica)
7 MF David Thompson
8 FW Andrew Cole
11 DF Noé Pamarot
14 DF Matthew Taylor
17 MF Ognjen Koroman (on loan from Terek)
19 MF Niko Kranjčar
22 MF Richard Hughes
23 DF Sol Campbell
25 FW Benjani Mwaruwari
26 MF Gary O'Neil
27 FW Nwankwo Kanu
28 MF Sean Davis
29 MF Roudolphe Douala (on loan from Sporting)
30 MF Pedro Mendes
32 FW Lomana LuaLua
33 GK Dean Kiely
35 GK Nicholas Jordan
-- GK Asmir Begović
-- MF Daryl Fordyce
-- MF Scott Harris
-- DF Jason Pearce
-- MF Marc Wilson